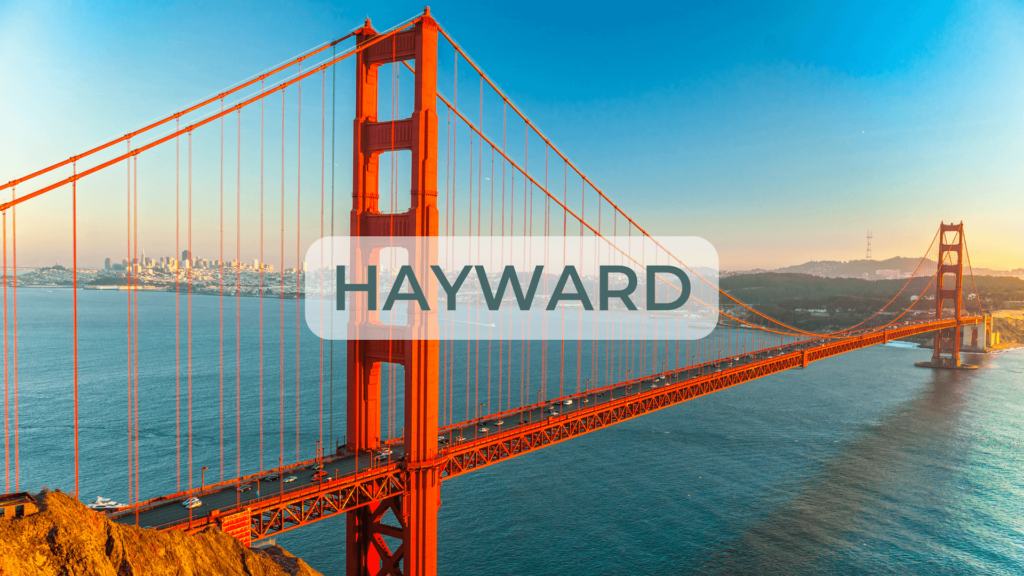 Hayward, California is a bustling city located in the San Francisco Bay Area. It's known for its diverse community, great weather, and convenient location. If you're considering buying a home in the Bay Area, here are some reasons why you should consider Hayward:
Hayward is located in the heart of the Bay Area, making it easy to commute to San Francisco, Oakland, and Silicon Valley. The city's proximity to major highways also makes it easy to get around.
Hayward is a melting pot of cultures and ethnicities. It's a great place to learn about different cultures, languages, and customs.
Weather
Hayward enjoys a Mediterranean climate with mild winters and warm summers. As a result, outdoor activities can be enjoyed all year long.
Community Overview, Popular Communities, Transportation, and Amenities
There are many different neighborhoods in Hayward, each with its own characteristics. Fairway Park, Mt. Eden, and Mission-Foothill are among the most popular neighborhoods in Hayward.
Hayward's transportation system is convenient and easy to use. Several bus routes serve the city, and it is located near major highways, making it easy to get around. Bay Area Rapid Transit (BART) serves several stations in Hayward.
Hayward has plenty of amenities to offer. Several parks and recreation areas exist in the city, including Kennedy Park, which has a swimming pool, picnic areas, and sports fields. Hayward Area Recreation and Park District (HARD) also offers a variety of classes and programs.
Schools and Healthcare Facilities
Several great schools are located in Hayward, including elementary schools, middle schools, and high schools. There are also several colleges and universities in the city, including California State University, and East Bay.
Hayward has several hospitals and medical centers. Hayward Wellness Clinic, Kaiser Permanente, and St. Rose Hospital are among them.
Shopping, Dining, and Nightlife
There are plenty of great shopping and dining options in Hayward. Southland Mall and Hayward Plaza are two of the city's shopping centers. Fast food chains and upscale restaurants are also plentiful.
You'll find several bars and clubs in Hayward if you're looking for nightlife. Among the most popular spots are The Bistro, The Dirty Bird Lounge, and The Turf Club.
Outdoor Activities, Fitness, and Beauty Spots
Residents of Hayward can enjoy several great outdoor activities. There are several parks and hiking trails in the city, including the Hayward Regional Shoreline and the Garin Regional Park. There are several gyms and fitness centers in the area, including 24-Hour Fitness and Anytime Fitness.
Things to Consider
There are plenty of great things about living in Hayward, but there are also some things to consider. There is a high crime rate in the city, so you should be aware of your surroundings and take safety precautions. During rush hour, traffic can also be challenging, so plan your commute accordingly.
FAQs
How much does it cost to buy a house in Hayward, California?
Hayward has a median home value of $740,000. Nevertheless, prices can vary depending on the neighborhood and the type of home.
What are the best schools in Hayward?
Hayward has several highly-rated schools, both public and private. Here are some of the best schools in Hayward:
American High School
Moreau Catholic High School
Hayward High School
Leadership Public Schools – Hayward
East Avenue Elementary School
Treeview Elementary School
Stonebrae Elementary School
Ruus Elementary School
Southgate Elementary School
St. Bede Catholic School
Academic excellence, experienced faculty, and a comprehensive curriculum distinguish these schools. They also offer extracurricular activities, sports programs, and community involvement opportunities. To find the right school for your child, you should research them thoroughly and visit them in person.
What are some good neighborhoods to live-in in Hayward?
Depending on your preferences and budget, Hayward has several great neighborhoods. Some of the most popular ones are:
Fairway Park: This neighborhood is popular for its affordable homes and proximity to schools, shopping, and restaurants.
Jackson Triangle: This area is known for its diverse population and cultural events. It also has a variety of housing options, from apartments to single-family homes.
Mission-Garin: This neighborhood is located in the southern part of Hayward and offers a mix of older and newer homes. It is known for its proximity to parks and recreational activities.
Upper B Street: This area is popular for its historic homes and tree-lined streets. It is also close to downtown Hayward and the BART station.
Southgate: This neighborhood offers newer homes and is popular among families. It is close to schools, parks, and shopping centers.
If you are considering buying or selling a home in Hayward, connect with Rajul Shah Realtors today.
If you're looking to buy or sell a home in this area, contact Rajul Shah Realtors today. Our team of experienced real estate professionals can help you navigate the market and find the perfect home for you and your family. Don't wait – take the first step towards your dream home and contact us today