Meet Rajul Shah
And make your real estate dreams a reality!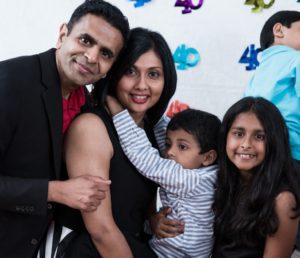 Rajul Shah cares deeply about helping people fulfill their dreams — and that includes finding, selling or buying their dream house!
A working mother who lives in the East San Francisco Bay area with her husband, Anand Tamboli (himself a realtor) and two children, Rajul Shah understands your needs and the importance of having a caring professional by your side to assist you with the buying or selling process. She has built a successful career in real estate, with more than $10M in successful sales for the year 2016 alone.
Rajul has worked as a registered REALTOR® with one of the top Coldwell Banker offices in the metro region, where she made it in the Top Elite Class of Coldwell's Fremont office in just four years. She has been awarded Coldwell Banker International President's Circle Award 2018. She is also recognized by the International Diamond Society, the top notch class of Coldwell Banker Group. She is intimately familiar with every aspect of the industry, representing sellers, buyers, and investors in residential markets. She uses her experience and foresight to proactively address details before they can become an issue in your transaction process. With Rajul, you can be sure of five things: integrity, passion, accountability, commitment, and care!
Rajul strongly believes in making personal connections with each and every one of her clients. She is always available, reachable, and accessible to answer any questions and ensure that her clients get what they need at any time of the day. She is fluent in English, Hindi, Gujarati, and Marathi.
Our marketing expertise
We set up your listings for success!
Marketing your home and making it ready for buyers is a key step in the selling process. Rajul's team is high skilled in all marketing aspects, which include setting up custom websites and ensuring that all target groups of potential buyers are reached in a timely manner.
During the home staging process, you only have one chance to make a first impression — and your home's pictures are the first impression! Rajul's team will assist you in taking great pictures that bring out the best in your home.  Because the nicer your pictures look, the higher your home will sell for.
You must properly showcase your property and prove to prospective sellers that your marketing efforts are second to none. Rajul's team includes technology experts who will use proven social media channels and other marketing tactics to ensure that your property is perfectly showcased to prospective buyers. We also work with marketing professionals to make websites that are dedicated to a single property listing.
Rajul's team will always be on hand to give a personal touch and answer any questions from prospective buyers during Open House events.
Our real estate experience
Let us help you find the way 'home.'
Whether you are searching for your personal residence, looking for an income-generating property, or introducing your home to the real estate marketplace, Rajul and her team can help make your real estate dreams a reality.
Rajul Shah is an expert in the Fremont, Newark, and Union City areas. She is very knowledgeable in the local vicinity, knows the local schools and communities, and is an expert in local real estate market trends. She is extremely hands on and personally tours new homes available each week.
Her batting average is 108% List vs Sale Price – meaning she has consistently sold properties for 8% more than the list price!
Her average listing stays for only 6 days on the market – meaning she sells homes quickly!
As a Full-Service Realtor, Rajul makes the buying process smoother by offering the assistance of an in-house loan officer who will take the time to pre-qualify you as well as walk you through the mortgage options available.
Our Reputation
What our customers say about us.
Rajul's team is very detailed oriented; we appreciate how they identify the little things that could have become an issue later on.
Rajul is very easy to talk to and always responds quickly.
Rajul made us feel that she has our best interests in mind.
We won't hesitate to refer Rajul to our friends!
Our Community Involvement
We believe in giving back to our community.
We are active donors to World Vision Organization and The American Cancer Society.
We are currently sponsoring 16 children from East Africa. We are committed to providing for their needs and ensuring their wellbeing until they turn 18 years old.
We regularly run 5K and half-marathon races that benefit worthy causes such as Breast Cancer Awareness, Run for Education, and Nike Women's Race.
We are active community volunteers and support school programs that promote educational opportunities for kids.