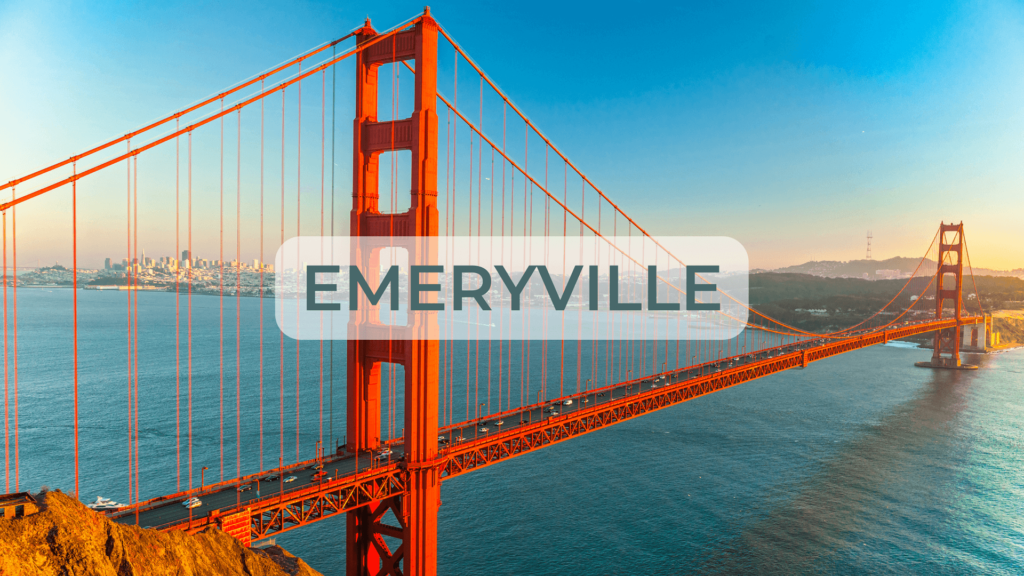 Are you looking for a vibrant, diverse, and growing community to call home in the Bay Area? Look no further than Emeryville, California! This small city packs a punch with its rich history, lively culture, and prime location. In this blog post, we'll cover everything you need to know about buying and selling real estate in Emeryville.
Highlights
Located between Oakland and Berkeley, Emeryville is a commuter's dream. To get to work or explore the area, you can easily access major highways, public transportation, and bike-friendly routes.
Despite its small size, Emeryville boasts a thriving business district with over 2,000 companies, including Pixar Animation Studios, Jamba Juice, and Peet's Coffee & Tea. This means plenty of job opportunities and economic growth for residents.
Emeryville is home to a diverse population of approximately 12,000 people, who enjoy a vibrant arts and culture scene, numerous parks and open spaces, and a walkable community that promotes healthy living.
Community Overview
Emeryville is divided into several neighborhoods, each with its character and appeals. Some of the most popular ones include:
Bay Street: This bustling shopping and entertainment district is a major draw for locals and visitors alike. You can find everything from high-end fashion to gourmet dining to a movie theater and a bowling alley.
Emeryville Marina: If you love boating or fishing, this is the place for you. The marina offers scenic views of the Bay Area and easy access to nearby parks and trails.
Doyle Street: This residential area is a quiet retreat from the city, with tree-lined streets and charming homes.
Transportation
Several modes of transportation connect Emeryville with the rest of the Bay Area. To get around town and beyond, you can take the AC Transit bus system, BART, Amtrak, or the Emery Go-Round shuttle. Furthermore, Emeryville offers ample parking for cars and bikes, as well as a robust car-sharing program.
Amenities
Emeryville residents enjoy a wide range of amenities and services, including top-notch schools, healthcare facilities, supermarkets, and places of worship. There are also several parks and open spaces for outdoor recreation, such as Emeryville Marina Park, Doyle Hollis Park, and Temescal Creek Park.
Lifestyle
In terms of shopping, dining, and nightlife, Emeryville has it all. Shoppers can indulge in retail therapy at Bay Street, attend a movie or concert at Emeryville Center for the Arts, or dine at local restaurants like Townhouse Bar & Grill, Rudy's Can't Fail Cafe, or Honor Kitchen & Cocktails for delicious cuisine from around the world. Aside from Tilden Regional Park, Redwood Regional Park, and the Berkeley Marina, there are several nearby beaches, hiking trails, and nature reserves to explore.
Things to Consider
There are several factors to consider when buying or selling real estate in Emeryville. Emeryville, for instance, has a median home price of $660,000, which is slightly higher than the national average. Due to the city's high demand and desirable location, this is not surprising. A local real estate agent who knows the area and can assist you in navigating the market is also a good idea.
Conclusion
In Emeryville, residents enjoy a high quality of life in a vibrant and dynamic community. Emeryville has something for everyone, whether you're looking for a new home, starting a business, or raising a family.
What is the cost of living like in Emeryville?
Answer: The cost of living in Emeryville is relatively high compared to the national average. Housing costs are especially high, but residents enjoy access to a wide range of amenities and a convenient location near San Francisco.
Is Emeryville a safe place to live?
Answer: Emeryville has a relatively low crime rate compared to other cities in the Bay Area, but as with any urban area, residents should exercise caution and be aware of their surroundings.
What are some popular attractions in Emeryville?
Answer: Emeryville is known for its shopping and dining options, including the Bay Street Emeryville shopping center and numerous restaurants and bars. The city also has several parks and a waterfront trail.
What are the schools like in Emeryville?
Answer: Emeryville is served by the Emery Unified School District, which includes a K-12 school and a preschool. The district has received mixed reviews, but some families are drawn to the small class sizes and personalized attention.
How is public transportation in Emeryville?
Answer: Emeryville is well-served by public transportation, with access to buses, trains, and the Bay Area Rapid Transit (BART) system. The city is also bike-friendly, with several bike lanes and a bike share program.
If you are considering buying or selling a home in Emeryville, connect with Rajul Shah Realtors today.
If you're looking to buy or sell a home in this area, contact Rajul Shah Realtors today. Our team of experienced real estate professionals can help you navigate the market and find the perfect home for you and your family. Don't wait – take the first step towards your dream home and contact us today